The Elizabeth City State University (ECSU) Foundation Board of Directors has named members of the Board of Directors who will serve three-year terms through June 30, 2026. The Foundation Board was established in 1971 as a nonprofit organization to support students, faculty, and the operational needs of the university through its fundraising and philanthropic efforts.
"We are excited about the potential of the new board members lending their experience and talent in helping to continue the strong work of the ECSU Foundation in furthering the work and mission of the University," said Gary L. Brown, Ph.D., Vice Chancellor for Student Affairs and University Advancement.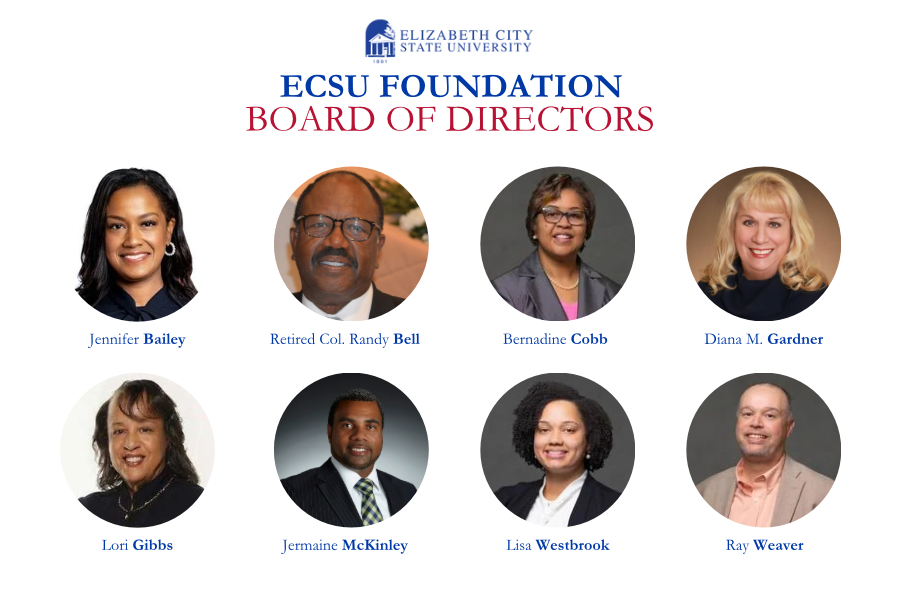 Ms. Jennifer Bailey is the chief administration officer at Cognosante. With more than 20 years of business experience, she currently oversees many of the company's strategic corporate functions, including Human Resources, Marketing Communications, Information Technology, Facilities, and Quality and Performance.
Before joining Cognosante in 2018, Bailey served as vice president of Human Resources for Perspecta, a $1.2 billion organization with approximately 4,000 employees. Before Perspecta, Bailey spent 13 years at Vangent, Inc., which was later acquired by General Dynamics Information Technology (GDIT). Bailey earned a Bachelor of Arts degree in Speech Communication from George Mason University (GMU).
Retired Col. Randy Bell graduated from ECSU in 1972 with a Bachelor of Science degree in Social Sciences. He has Master's Degrees in Educational Leadership from Troy University and National Security and Strategic Studies from the Naval War College in Newport, R.I.
Bell's military awards and decorations include the Legion of Merit, Meritorious Service Medal, the Navy and Marine Corps Commendation Medal, the Navy and Marine Corps Achievement Medal and others. In addition to recognition for outstanding military performance and achievement, Bell was recognized in The Virginian-Pilot among African American Leaders of Hampton Roads in 2000 and received an Alumni Merit Award from the ECSU Alumni Association in 2004.
Ms. Bernadine Cobb is senior vice president for North Carolina State Employees Credit Union. She is also a founding donor of the Sonja Haynes Stone Center for Black Culture and History, a member of the Light on the Hill Society Board, the Triangle Park chapter of The Links Inc., and Alpha Kappa Alpha Sorority Inc. Additionally, she's a board member of YESICAN college preparatory program, and a treasurer and trustee at Wake Chapel Church in Raleigh. Cobb earned her Bachelor's Degree in Economics from UNC Chapel Hill in 1984.
Mrs. Diana M. Gardner is a real estate broker with Hall & Nixon Real Estate Co., in Elizabeth City. She graduated from Rutgers University with a Bachelor of Arts degree, having double majored in Journalism and English.
From 1998-2004 she was executive director of Albemarle Area United Way, and from 2004-2006 she served as project coordinator for the Teen Tobacco Prevention Project. She is also an accredited home stager and has a certification in the American Society of Healthcare Marketing Professionals. Gardner also does community service with a variety of different organizations, including the Elizabeth City Rotary Club and Holy Family Catholic Church.
Ms. Lori Gibbs retired as a vice president at PNC Bank. In that capacity, she led a team focused on partnering with organizations to initiate and expand existing community and economic development activities.
She is a current board member for the Delta Sigma Theta Sorority Inc., National Program Planning and Development Committee and serves as chair of the Economic Development Committee, the North Carolina Institute of Minority Economic Development and several other organizations. A graduate of the University of Connecticut, Gibbs has a Master's Degree from University of Bridgeport. She was the first African American woman to receive the Mortgage Bankers of America Diversity Champion Award.
Mr. Jermaine McKinley is finance director for Amazon, and has served as a leader, executive and chief financial officer for well-known national companies such as Oracle, Patheon, Covance, Dell, and GE Healthcare.
McKinley is experienced in working with boards and C-level executives, and his career spans multiple countries and diverse industries including information technology, healthcare, manufacturing, and corporate financial planning. He earned a Bachelor's Degree in Accounting from North Carolina State University.
Ms. Lisa Westbrook is senior vice president at North Carolina State Employees Credit Union (SECU). She is an avid member of the African American Credit Union Coalition (AACUC), a nonprofit organization of African American professionals and volunteers in the credit union industry, and a member of Alpha Kappa Alpha Sorority Inc.
Westbrook is an alumna of ECSU, where she earned a Bachelor's Degree in Banking and Finance.
Mr. Ray Weaver is senior vice president of the North Carolina State Employees Credit Union (SECU) District 35. He has been working for the organization for 24 years and has a certified financial planner designation. Weaver is a 1998 ECSU graduate with a Bachelor's Degree in Business Administration.