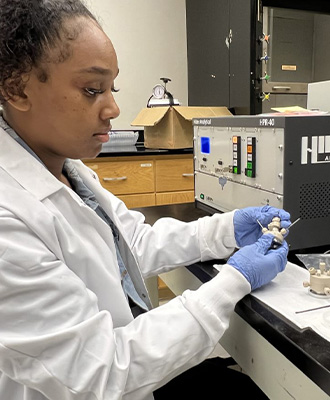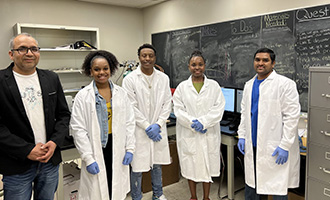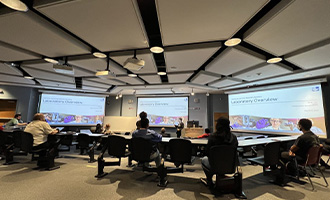 SINCE 2015

, ECSU FACULTY AND STAFF HAVE BEEN AWARDED

OVER $20 MILLION

IN GRANT SUPPORT.
The Office of Sponsored Programs (OSP), Contracts and Grants supports Elizabeth City State University's research mission by assisting faculty and staff in the procurement of grants, contracts and cooperative agreements from external sponsors; promoting faculty involvement in domestic and international collaborations and research partnerships; administering the university's Title III/SAFRA Programs to strengthen its infrastructure; and ensuring that its privilege of receiving external support is protected. Sponsored Programs oversees pre-award and post-award non-financial administration, Title III/SAFRA program administration, and research compliance.
SERVICES WE PROVIDE TO FACULTY AND STAFF:
Identifying Funding Opportunities
Strategy Sessions

Proposal Review and Editorial Support
Budget Development
Communicating with sponsors and collaborators
TIPS FOR SUCCESSFUL PROPOSAL DEVELOPMENT:
READ through the entire solicitation and pay attention to deadline dates and program contacts.
Contact the program officer to discuss your ideas.
Identify colleagues, partners, collaborators.
Contact OSP to develop your budget.
Enter your proposal information in RAMSeS for routing/approval.

ecsu.myresearchonline.org/ramses

Submit your final proposal documents to OSP at least one week prior to deadline for review.
Always consider revising and resubmitting if not funded!
Sponsored Programs
Additional Information
Cayuse is a cloud-based software system designed to enhance our electronic research administration infrastructure, support efficient proposal and award management, and provide superior reporting capabilities.
Cayuse SP 4.0 presents a unified, digital workspace for users that allows investigators and administrators to input proposal/award data, route for internal approvals, review and track progress through the entire project lifecycle.
ECSU users may sign into Cayuse SP using the link below. Users are then prompted to initiate single sign-on using their ECSU username and password.
For questions about using Cayuse, please contact the Office of Sponsored Programs at ecsuosp@ecsu.edu or contact one of the Sponsored Program staff members.
The Mission of the Title III Office is to serve as the central administrative office for the management of the Title III funded activities. The office assists the university by ensuring planning, management, budgetary and administrative oversight and providing technical assistance and evaluation of each activity. These functions, when applied in concert with other campus administrative activities, strengthen the total infrastructure of ECSU. Additionally, the office serves as a liaison between ECSU and the U.S. Department of Education.
The Title III Office must mesh an institutional perspective and comprehension of the institution's mission, goals and objectives with the Strengthening of Historically Black Colleges and Universities (HBCUs) Program and the Strengthening of Historically Black Graduate Institutions (HBGIs) Program in order to affect long rang plans for utilization of Title III funding.
Unallowable HBCU Activities
Activities that are not included in the grantee's approved application;
Activities described in paragraph (a)(12) of section 608.10 that are not approved by the Secretary;
Activities described in paragraph (a)(12) of section 609.10 that are not approved by the Secretary;
Activities which are inconsistent with any State plan for high education to the institution;
Activities which are inconsistent with the State plan for higher education that is applicable to the institution;
Activities or services that relate to sectarian instruction or religious worship;
Activities provided by a school or department of divinity. For the purpose of this section, a "school or department of divinity" means an institution, or a department of an institution whose program is specifically for the education of students to prepare them to become ministers of religion or to enter upon some other religious vocation, or to prepare them to teach theological subjects; and
Other Limitations
Funds awarded under the HBCU and HBGI Programs must be used to Supplement and to extent practical, increase funds that would otherwise be made available for the purpose listed in 608.10 and 609 of the program regulations and in no case Supplant those funds.
Supplement is defined as using grant funds to correct a deficiency in an existing activity or service, or to improve, enrich, or enhance an existing service or activity through the addition of new services or activities.
Supplant is defined as substituting grant funds to pay for personnel, activities, services, or other cost that were supported from other sources prior to the receipt of a grant or such costs that are contained in the current institutional budget.
A grantee shall not use more than fifty percent of its grant for constructing or maintaining a classroom, laboratory or other instructional facility.
Applicants for a grant under the Strengthening Historically Black Colleges and Universities Program and the Strengthening Historically Black Graduate Institutions Program are strongly advised to carefully read the regulations applicable to the program. These regulations are the Institution Aid - Strengthening Historically Black Colleges and Universities Program regulations (34 CFR 608), and Strengthening Historically Black Graduate Institution Program regulations (34 CFR 609).
Council of Endowed Professors
The Council of Endowed Professors serve as leaders of the ECSU community through their scholarly activities, community engagement, and grant-funded programs.
Ebere A Oriaku joined Elizabeth City State University in 1985 as an assistant Professor of Business and Economics. Presently Ebere Oriaku is an endowed professor of Economics.
Professor Oriaku had chaired the Department of Business and Economics for over ten years and introduced many programs. He served the University as Director Center for Economic Education, Director for Summer School. He had taken students to several competitions under SIFE, now Enactus. And had several regional, and national awards. Professor Oriaku has written numerous articles in his field and has been awarded grants in collaboration with others.
He was appointed endowed professor in 2013 with a mandate to work with Dean Bejou to obtain international accreditation in Business for ECSU Business Program. That task was accomplished. He was also mandated to write a curriculum for MBA program with international dimensions and this was done waiting for funding from the UNC system.
Professor Oriaku serves as an external, Ph.D. examiner for many Foreign Universities such as India and Dubai. He serves
ETS CLEP as a syndicate, and as reader for AP economics for ETS. He continues to serve ECSU with efficiency and high dedication. He served as a consultant in ECSU's award winning Choir tour to Africa in 2006.
Dr. Kuldeep Rawat is Thorpe Endowed Professor and Dean of School of Science, Aviation, Health and Technology at Elizabeth City State University (ECSU), Elizabeth City, North Carolina. Dr. Rawat holds an MS in Computer Science, MS in Computer Engineering, and a Ph.D. in Computer Engineering from Center for Advanced Computer Studies, University of Louisiana-Lafayette (ULL). At ULL he conducted research into video compression techniques for applications in aerial surveillance platforms used for monitoring wetlands. He has more than eighteen years of combined Industrial and Academic Research and Teaching experience. Dr. Rawat is an International Air Transportation Association (IATA) certified Aviation Management Professional.
Dr. Rawat provides leadership and manages the School's administrative operations. The School of Science, Aviation, Health, and Technology (SAHT) is home to four academic departments and fifteen academic programs: Natural Sciences (Biology BS/MS, Chemistry, and Sustainability Studies); Health & Human Studies (Pharmaceutical Sciences, Kinesiology, Psychology, and Social Work); Mathematics, Computer Science, and Engineering Technology (Mathematics BS/MS, Computer Science, Engineering Technology); and Aviation & Emergency Management (Aviation Science, Unmanned Aircraft Systems, and Emergency Management), which includes over sixty full-time and temporary employees. In addition, the SAHT houses Aviation Science, the institution's signature program. The SAHT also houses Center for Excellence in Remote Sensing Research and Education, NC Math/Science Enrichment Network (NC-MSEN), and ECSU's Khan Planetarium.
Dr. Rawat has served as the Principal Investigator/Project Director on multiple grants, including National Institute of Justice (NIJ), Hewlett-Packard, the US Department of Transportation, NC Division of Aviation, NASA, the Burroughs Wellcome Fund, and the Golden LEAF Foundation. He has secured over $5 Million in external funding to support research, teaching, program development/enhancement, and outreach projects at ECSU.
He also serves as the Director of ECSU's signature/flagship program in Aviation Science. As the director of state's only 4-year collegiate aviation program, he is responsible for conducting aviation program needs assessment, purchasing aircraft, flight simulators and ATC lab equipment, avionics trainers, laboratory upgrades and developing a strategic plan to grow and sustain state's only four-year aviation education program. Recently, Dr. Rawat led the efforts to establish BS degree in Unmanned Aircraft Systems program at ECSU.
Other administrative responsibilities that he holds on campus are the Chief Research Officer, Campus Director for NC Space Grant Consortium, Activity Director for Department of Education/SAFRA project, Director of Unmanned Vehicle Systems Lab, and Director of Summer Transportation Institute and Dwight David Eisenhower Transportation Fellowship program at ECSU.
His areas of interest are in designing embedded systems, PC-based instrumentation, mobile and aerial robotics, civilian applications of unmanned aerial systems, and innovative uses of educational technologies. He is one of the 10 recipients of 2009 HP Innovations in Education award to transform teaching and learning through innovative uses of technology.
Sharon D. Raynor is the Dean of the School of Humanities and Social Sciences and the Winnie Wood Endowed Professor of English and Digital Media at Elizabeth City State University. She uses her various platforms to share veterans' stories. Raynor is the Executive Producer for the documentary film, In the Face of Adversity: The Service and Legacy of African American WWII Veterans, for the North Carolina African American Veterans Lineage Day Documentary Project in collaboration with the NC Department of Military and Veterans Affairs, NC Museum of History and NC Humanities. She is also a Co-Producer of The Silence of War, a transmedia and short film documentary in collaboration with The Imagination Project at Wake Forest University's Documentary Film Program. She also collaborated with the NC Humanities on two grant -funded veterans oral history projects, with UNC-Chapel Hill School of Education with LEARNNC: North Carolina Digital History Textbook to design lesson plans and with Cardinal and Pine to document "Hidden Valor: Remembering North Carolina's Black Veterans on Memorial Day." The website www.whenwritinggoestowar.com highlights the culmination of her veterans oral history projects.
Raynor is the co-editor of Teaching Race in Perilous Times: Racial Discourse in the College Classroom with SUNY Press and has a forthcoming book, Practicing Oral History with Military and War Veterans, with Routledge Press. She has dedicated publications to veteran issues such as: "Breaking the Silence: The Unspoken Brotherhood of Vietnam Veterans," "The First Saddest Day of My Life: A Vietnam War Story," "The Double Consciousness and Disability Dilemma: Trauma and the African American Veteran," "African American Masculinity Performance in the Diaries of Vietnam Soldiers," "The Tell-Tale-Listener: Gendered Representations in Oral History [with Vietnam Veterans]," "Welcome Home, Brother," "'Sing a Song Heroic': Paul Laurence Dunbar's Mythic and Poetic Tribute to Black Soldiers," and "Something He Couldn't Write About: Telling My Daddy's Story of Vietnam." Other diverse scholarly publications are in the areas African American literary studies and narrative and trauma theory appear in The Oral History Review, History Now (Gilder-Lehrman Institute of American History, Australian Feminist Review and The Yancy Years 1994-2008: The Age of Infrastructure, Technology & Restoration, and 27 Views of Charlotte: The Queen City in Prose and Poetry.
She previously worked at East Carolina University, Johnson C. Smith University, Wake Forest University and the Center for Documentary Studies at Duke University. Raynor has been a faculty fellow for the Gilder-Lehrman Institute of American History, Center for the Study of Race, Ethnicity and Gender in the Social Sciences at Duke University, Clark-Yudkin Research Fellowship for United States Air Force Academy, Humanities Writ Large Faculty Fellowship at Duke University and Center for Documentary Studies and the Alphonse Fletcher, Jr., Fellowship at the W.E. B. DuBois Institute for African and African American Research at Harvard University and the Faculty Resource Network Fellowship at New York University. She has participated in international faculty study abroad programs with the UNCF/Mellon Faculty Seminar Program in Salvador, Brazil and Cape Town, South Africa, The Salzburg Seminar in Salzburg, Austria and the Council on International Educational Exchange in Dakar, Senegal and Cape Verde, West Africa. Raynor is a North Carolina native with degrees in English and Multicultural Literature (BA '94, MA '96) from East Carolina University and a PhD in Literature and Criticism ('03) from Indiana University of PA. She is the 2020 recipient of the Old North State Award from the NC Governor's Office for her continuous work in the fields education and veterans advocacy in the state of North Carolina.
Dr. Robert White, E.V. Wilkins Endowed Professor in Education, is an esteemed educator, researcher, and advocate dedicated to advancing equitable and transformative education. Dr. White's contributions extend far beyond traditional academia. With a rich blend of experience spanning academia, leadership, and community engagement, he is a driving force in fostering inclusive environments and empowering marginalized communities.
Having been an Elementary Teacher, District Behavior Support Teacher, and Elementary School Principal; Dr. White's journey in academia began with a PhD in Educational Studies from Durham University, specializing in Special Education and Educational Psychology with a focus on Inclusive Practice. This foundation propelled him into numerous leadership roles, including Reader in Education at Queen Margaret University, Director of Educational Leadership at Le Moyne College, and Reader and Research and Excellence Coordinator at the University of Aberdeen.
His extensive expertise lies at the intersection of critical theory-informed educational leadership, emancipatory pedagogies, and inclusive education. Dr. White's influence extends globally, highlighted by his role as the International Coordinator of Inclusion and Equity for the UNESCO Teacher Taskforce, where he collaborates with schools and communities worldwide to develop culturally responsive programs for marginalized children.
As an accomplished author and researcher, Dr. White's work spans critical theory-informed educational leadership, educational psychology, multicultural education, and inclusive education. His forthcoming book on Critical Theory Informed School Leadership and leadership in the 'Transforming Education' series with Bloomsbury Academic exemplify his commitment to advancing knowledge and practice.
Beyond research, Dr. White's impact resonates through teaching excellence. He has crafted courses such as Emancipatory Educational Leadership and Comparative and International Educational Studies, blending theory and practice to foster critical thinking and social engagement among students. His dedication to teaching has earned him nominations for teaching awards and heartfelt praise from students.
Dr. White's service to the academic community is profound, demonstrated through committee work, leadership roles, mentoring, and contributions to initiatives like the Research Excellence Framework, The Teaching, Research and Academic Mentoring Scheme and more recently The Southeast Coalition for University Assisted Community Schools. His passion for promoting diversity, autonomy, and agency aligns seamlessly with the values of institutions he serves.
With a rich academic journey marked by innovation, equity, and social justice, Dr. White's influence encompasses academia, research, teaching, and community engagement. His commitment to advancing education that transforms lives underscores his role as an advocate and activist for inclusive and equitable excellence.
Contact Us:
Office of Sponsored Programs

1704 Weeksville Road
McClendon Hall Rm. 100
Elizabeth City, NC 27909


252-335-3400