Message from the President
Dear ECSU Alumni,
On behalf of the Elizabeth City State University National Alumni Association, it is my honor to extend a heartfelt welcome to all of you attending the 52nd NAA Convention hosted by the Elizabeth City Area Alumni Chapter!
This convention is a momentous occasion where we come together to celebrate our shared history, cherished memories, and the lasting impact of our beloved alma mater. It's a time to reconnect with old friends, make new connections, and strengthen the bonds that make our alumni community truly exceptional.
Throughout the convention, we have a diverse range of exciting events, insightful discussions, and engaging activities planned for you. We aim to empower you with knowledge, inspire personal and professional growth, and foster a spirit of unity and pride.
As we gather in the beautiful city that holds a special place in our hearts, The Harbor of Hospitality, let's take a moment to reflect on the tremendous achievements and advancements that our alma mater has made. Together, we continue to shape the legacy of Elizabeth City State University, both as individuals and as a collective force.
I encourage you to embrace this convention as an opportunity to network, share experiences, and learn from one another. The power of our collective wisdom and the wealth of expertise within our alumni community is immeasurable. By engaging in meaningful discussions and collaborations, we can drive positive change and create a brighter future for our alma mater.
To the Elizabeth City Area Alumni Chapter, thank you for hosting this remarkable event and for your tireless dedication to organizing a convention that showcases the very best of our alumni community. Your efforts are truly appreciated, and I have no doubt that this convention will be a resounding success.
Once again, I extend a warm welcome to all of you joining us for the 52nd NAA Convention. Let us come together, celebrate our achievements, and forge new paths towards a future filled with success, unity, and a shared commitment to the continued growth and prosperity of Elizabeth City State University.
With Viking Pride,
James W. Cherry, II Elizabeth City State University - National Alumni Association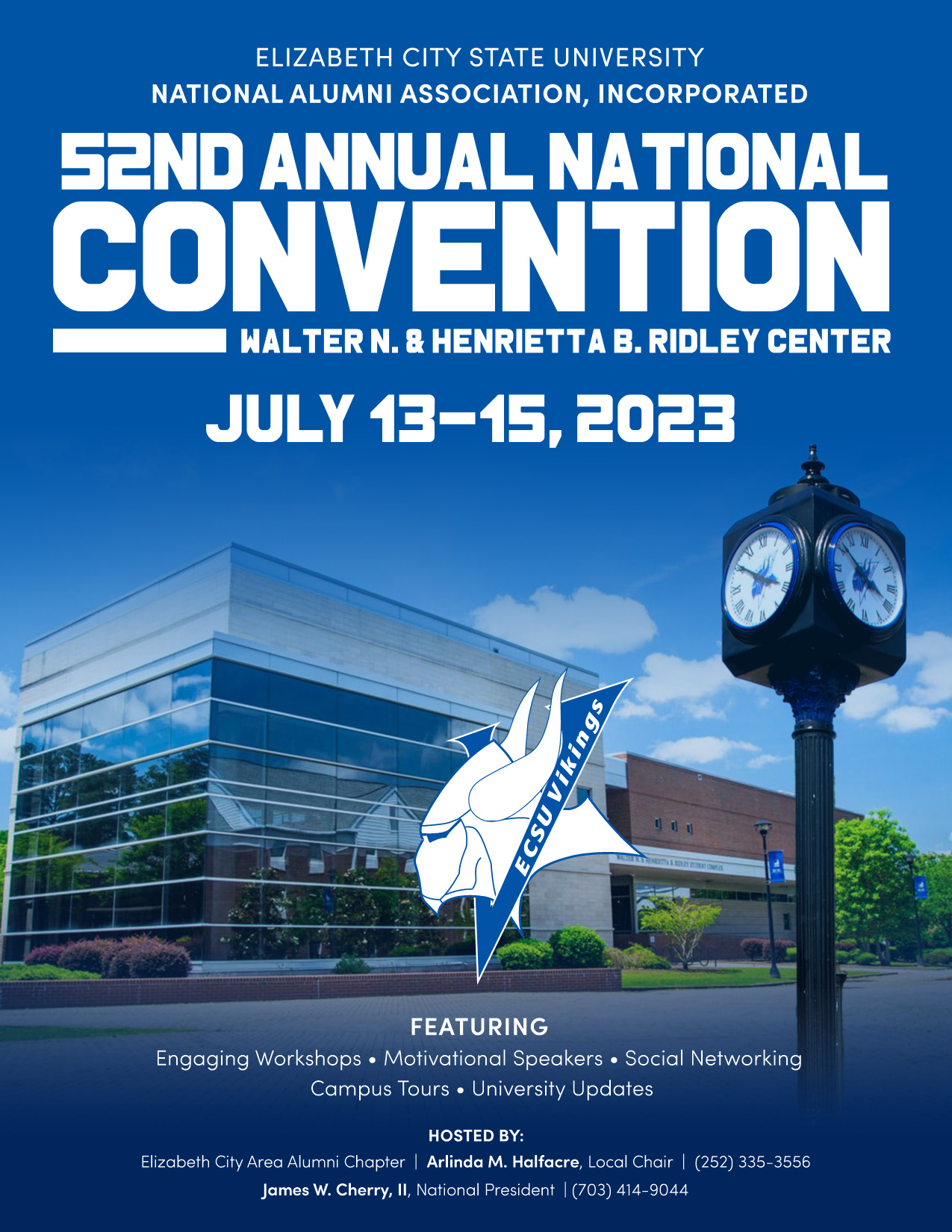 Location:
Elizabeth City State University
Ridley Student Center
Ballrooms 216, 218, 220
Please continue to check the website for updated information so that you can plan accordingly.
We look forward to welcoming you back home to Viking Land!
Viking Pride!
There are several lodging facilities located within Elizabeth City. Additionally, there are a few great finds on Airbnb.com. Please visit the Fairfield Inn or Hampton Inn to select your lodging during the NAA Convention in the Harbor of Hospitality.
The NAA Convention Committee is working diligently to plan an informative and exciting Convention. Details regarding the full Convention Agenda are forthcoming.
Campus Tours
Date: TBA
Time(s): TBA
Location: Pick-up/Drop-off location(s) TBA
The campus you once knew has changed so much…for the good! Renovated classrooms! Reimagined outdoor spaces! Remodeled residence halls! And the Viking Pride is still alive! Therefore, we would like to offer a small number of campus tours. These will be short walking tours to give you a glimpse of all things different and new at ECSU!
The All-White Party
Date: Friday, July 14th
Time: 8:00 pm – 12:00 am
Location: Ridley Student Center – Great Hall
Cost: $35.00
Dress in your all-white and celebrate Viking style! This will be a time of networking, engaging, reminiscing, and creating new memories that will last a lifetime.
Cash Bar | Live DJ | Selfie Booth | Refreshments
Hosted by the Elizabeth City Area Alumni Chapter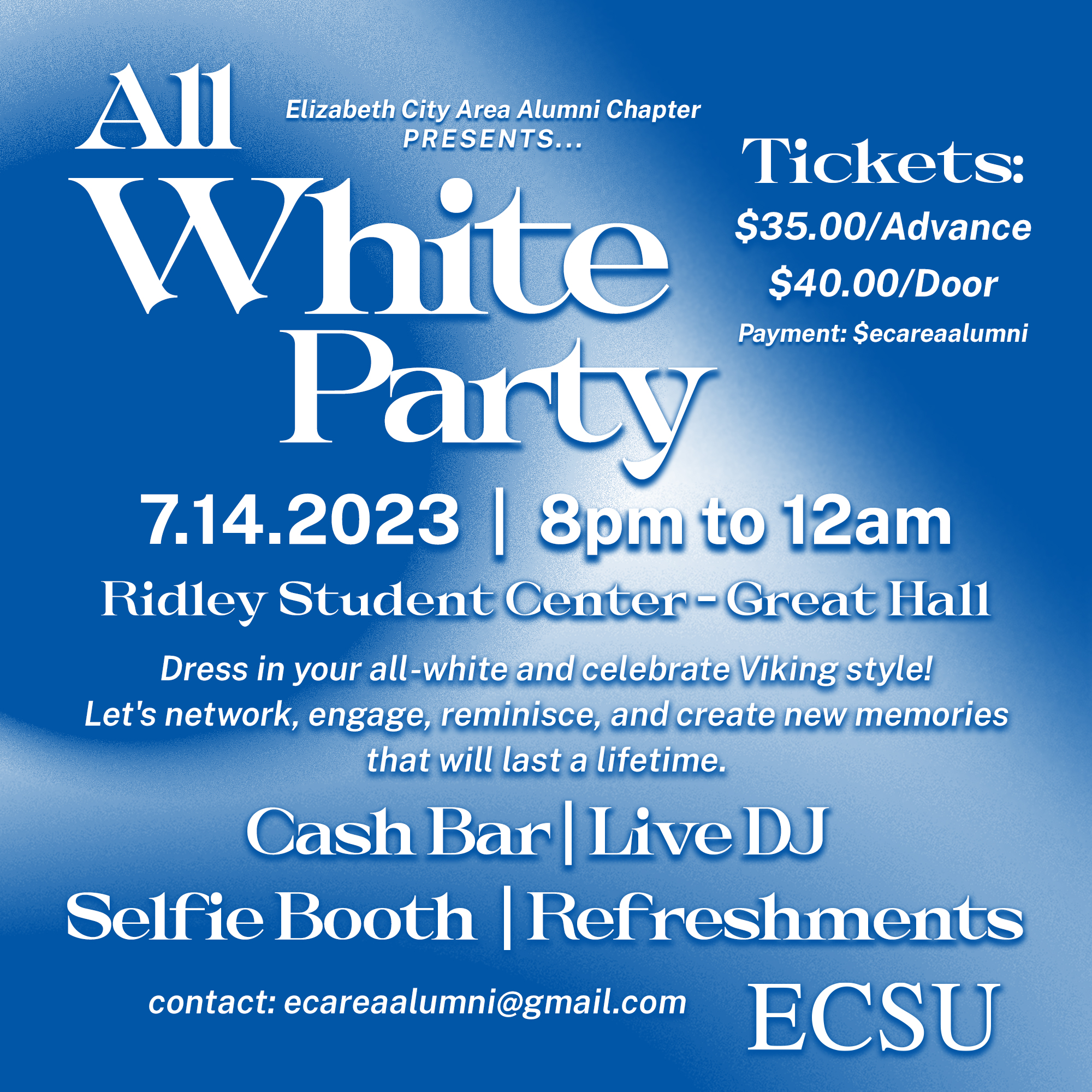 Office of Alumni Relations
Marion D. Thorpe Administration Bldg.

252-335-3224
JOIN THE NATIONAL ALUMNI ASSOCIATION
Membership in the ECSU National Alumni Association is an easy way to show your Viking pride. Through your active membership, we will be a stronger organization, which will allow us to provide unwavering support to ECSU and its students far into the future.

We encourage you to get involved and stay connected by sharing the elite status of membership with other members of our alumni community. Pay your annual dues or purchase your life membership online today.

(Annual Membership Year: January 1 – December 31)
Additional NAA Information
Chapters/Presidents
NAA Leadership
Enoch Bond '04

Trequita Overton '99

(Jan. 1, 2021-Dec. 31, 2023)

James Cherry, II '96

President

(Jan. 1, 2022-Dec. 31, 2024)

Abdul Sm Rasheed '71

Immediate Past President

Ex Officio – Non-Voting

(Jan. 1, 2022- Dec. 31, 2024)

Dr. Karrie G. DixonChancellor, Ex Officio – Voting

Keith O. Richardson '03

(Jan. 1, 2022-Dec. 31, 2024)

Barbaina Houston-Black '80 – Chair

(Jan. 1, 2022-Dec. 31, 2024)

Timothy Rodgers '83 – Vice Chair

(Jan. 1, 2018-Dec. 31, 2023)

Cherelle James '99

(Jan. 1, 2023-Dec. 31, 2025)

Shalon Hawkins Sharpe '99
(Jan. 1, 2023-Dec. 31, 2025)

Maryella Ward Leigh '67

(Jan. 1, 2019-Dec. 31, 2023)

Barbara B. Sutton '74

(Jan. 1, 2019 – Dec. 31, 2024)

Dr. Edward Newsome, Jr. '73

(Jan. 1, 2023-Dec. 31, 2025)
President

James Cherry, II '96

Recording Secretary

Melvin Norman, '77

First Vice President

Dr. Sandra S. Newsome, '70

Corresponding Secretary

Courtnay Jordan, '05

Second Vice President

Michael N. Johnson, '96

Sergeant-at-Arms

James Spence, '73

Treasurer

Sharonne Sawyer-Sutton, '02

Financial Secretary

VACANT